Social media engagement
It doesn't matter how you create content. The camera might be front or rear-facing. Audio might be on or off. Filters, emojis, stickers and so forth may be applied or not. Posts may be permanent or self-destructing. I could go on, but I think you get the idea. Smartphone apps enable people to express themselves every which way, and so they do.
Social Media Engagement
Facebook: Facebook measures engagements by likes, reactions, comments, shares, and some clicks on links, photos, or videos. Engagement rates on Facebook are measured by engaged users, not total engagements; if someone likes and comments on the post, that counts as two engagements, but one engaged user. Total engaged users are divided by the post's reach to find the engagement rate.
Twitter: Twitter engagements are measured by retweets, replies, follows, favorites, tweet expansion, or clicks on links, hashtags, embedded media, the username, or the profile picture. Engagement rates are calculated by adding all of these engagements up and dividing by total impressions.
Instagram: Instagram defines engagements as likes, comments, and saves on a post. There are a few ways to calculate Instagram engagement rates, and some Instagram users include or omit other factors like shares. To calculate an engagement rate, Instagram takes these metrics and divides by the total impressions.
35 Ways to Increase Your Social Media Engagement
1. Initiate Conversation with Your Social Media Followers
2. Mention Your Followers
3. Connect Content with Current Events
4. Respond to Questions and Customer Issues
5. Ask Specific, Pointed Questions
6. Do AMAs (Ask Me Anything)
7. Promote User-Generated Content to Your Fans
8. Use Hashtags That Relate to Your Business
9. Search for Users Who Use Your Hashtags and Respond to Their Tweets
10. Respond to Mentions
11. Promote Other People's Content
12. Post What's Good for The Society (E.g. Charity and Help)
13. Organize Giveaways
14. Curate and Promote Other People's Content
15. Use Animated GIFs
16. Ask for Feedback
17. Do Surveys and Polls
18. Participate in Twitter Chats
19. Share Customers Reviews and Emails
20. Regularly Follow Relevant and Active People in Your Industry
21. Use Emojis to Show Humanity
22. Show Gratitude to Fans
23. Find the Best Time to Post Depending on When Your Fans Are Online
U Is For Utility
A major majority of savvy B2B marketers put utility at the forefront of their content marketing programs. Useful content created to engage prospective customers could include tools, blog posts, video, infographics, downloadable guides, mini-courses, helpful email sequences, webinars, and much more.
I love the story from Jay Baer's book Youtility about Taxi Mike. Jay calls an enterprising taxi driver he encounters a "one man Trip Advisor." The driver created the Taxi Mike Dining Guide (above) and updates it regularly to handout to his passengers.
Sources:
https://seodigitalgroup.com/what-is-social-media-engagement/
https://www.omnikick.com/increase-social-media-engagement/
https://blog.hubspot.com/marketing/proven-social-media-engagement-strategies
Social media engagement
If you're just starting out, you'll also want to create unique content . You'll want to have a mix of your own content and popular content you've found on the internet. If sharing someone else's content always credit them on your page. When it comes to your own content, you can create quote graphics, funny gifs, viral videos, and more. Creating your content can take time to create. However, with long term effort, you'll find that you eventually get more shares which will help you to grow your social media following.
Increasing engagement through social media
The most important aspect of social media is that it's just that – social. This means that it's about more than simply broadcasting your messages, notices, opinions, etc – it's also about listening to others. Some would argue you should listen first, and speak later. This aspect fundamentally shapes how people use social media – people expect you to engage with them. The video below has useful thoughts from Dan in BCB (Bradford) on using social media as a two-way tool for listening.
Social media can reinforce and promote the work that you already do with other people and organisations – demonstrating your social capital. The example below shows use of Twitter by @BangRadio to connect with (and also, show their connection with) an organisation. Doing this makes your work visible to others, with the possibility of a retweet by that organisation (& possible further exposure). Note also the familiar tone of the response. It's worth pointing out that tweets like this indicate an already established connection, and familiarity and mutual respect for each other's work – this tone may not be useful or appropriate for early-stage or not-yet-active partnerships or collaborations.

Your audience on each social media platform will be different from each other, as well as from the listenership of your station. Therefore, on one social media platform, you may get more interest and engagement from posting more official content about your station and what it does in the community, while on another platform, behind the scenes photos of volunteers might be more popular. This is something that you can probably only find out through experience and experimenting – making use of evaluation tools. You can also monitor engagement on an ongoing basis, tracking who likes, comments on, or shares your posts.
Knowing who your audience is on each platform, as well as what you want to get out of that platform, should help shape what content you post, and also what tone of voice to use (e.g. more/less formal) on a given platform.
Many tools now exist that you can use to manage your social media output and presence. This can include scheduling updates (tweets, Facebook posts) to be posted at some point in the future, or on a recurring basis (e.g. 8am every weekday morning, or 7pm in the evening).
One useful tool for scheduling posts is Hootsuite, which allows you to manage multiple social media accounts from one dashboard. Hootsuite supports multiple social media profiles, offers analytics, and allows multiple posts to be scheduled at a time. There is a free version, though a number of features are reserved for pro accounts (including the ability to allow the account holder to give access to multiple employees or volunteers without giving out passwords, thereby adding a layer of security and control – a feature called "Hootsuite Teams"). Sign into Hootsuite via Twitter at https://hootsuite.com – once you're signed up, a walkthrough of key features and functionality is given.
With the increasing integration of social media tools – Facebook, Twitter, Audioboo, Youtube, Vine, etc – it is also possible to set up your profiles to transfer content from site to another automatically. However, pushing content automatically to multiple channels may run the risk of putting off people who follow you on more than one channel, so use with care!
Algorithms: Facebook is notorious for continually changing the way in which people see updates in their timelines – which is determined by the mysterious 'algorithm'. This is a program that monitors what content people like or comment on, what ads they respond to, what links they click, etc. and then adjusts what they will see in the future accordingly. For example, one issue Facebook is trying to address is 'clickbaiting' (essentially, teasing people to click your links – see info here: http://www.bbc.co.uk/newsbeat/article/28934479/facebook-is-cracking-down-on-clickbait-in-your-news-feed ). The main take-home point here is that Facebook has the power to change what people see, or don't see, and that there are no hard and fast rules that you can learn to make your content more visible or prominent. The best approach is to aim to be relevant to your audience, making them more likely to engage with you, and making Facebook more likely to display your content.
Time of day, or day of week: There are plenty of guides and analyses on what are the best times or days to post content, or certain types of content (e.g. surveys, articles) – see, e.g. here. However, since every audience is different, this kind of information is usually best comparing to your judgement. If you can, it could be worth trying out similar posts on different days or times of day, and seeing what levels of interaction you get.
Importance of Social Media Engagement
Social media engagement helps you strengthen your customer relationships . When customers engage with your posts or send you a message on social media you're presented with an opportunity to get to know your customers and build a relationship with them. Answer their questions, respond playfully when appropriate, and go above and beyond to offer excellent customer service.
Social media engagement also allows you to build customer loyalty . By helping your customers when they're in need, building a relationship with them and offering a one of a kind customer experience, you'll be able to increase your customer loyalty. Customers will trust your brand because you've answered their questions. They'll fall in love with your brand because you've joked around with them, expressed your gratitude, and resolved their issues.
You'll also increase your sales through social media engagement. By being active on social media and responding to customer posts, customers will feel confident making a purchase through your store. Even if there are negative comments on your page, if you respond positively and resolve the issue, you'll still grow your sales. You can also grow your sales by recommending certain products when asked. Avoid making every response to a customer about your products though. The sales will come naturally.
Optimize your email signature
Your email signature is an exceedingly underutilized piece of real estate. Using an extension like Wisestamp in Gmail can help you include your social media profiles in your email signature and boost your following and engagement.
It also helps boost your engagement within your LinkedIn network because LinkedIn notifies your network when you have published a new post and allows them to follow you to receive notification of future posts. Also posts that are viewed a lot, get picked up by LinkedIn Pulse, increasing your views and engagement exponentially.
To get the best results from LinkedIn Publisher, LinkedIn expert, Viveka von Rosen, recommends creating more thoughtful and thorough posts, and limiting your posting to once a week or so. Hubspot also has some useful tips on publishing on LinkedIn.
Sources:
http://www.communityradiotoolkit.net/social-media/increasing-engagement-through-social-media/
https://www.oberlo.com/blog/social-media-engagement
https://www.verizon.com/business/small-business-essentials/resources/what-is-social-media-engagement-and-how-can-you/
Social media engagement
Furthermore, Google considers the 'freshness' score while ranking websites. If your website and social media channels have fresh content, it will always help to boost your SEO for better a ranking position.
Why Social Media Engagement is Important for Your Business
Successful marketing depends on creating an omnichannel customer experience that is integrated across platforms, and that includes leveraging social media engagement as a means of reaching customers. People spend hours every day on their phones and on social media, and if you're not capturing at least some of their attention, that means that they're engaging with someone else's brand or business instead of yours.
This article discusses the importance of social media engagement for your business, explains exactly what social media engagement is, how and why it benefits businesses that make it a core part of their marketing strategy, and even offers some social media engagement tactics and ideas that you can use to start promoting your channels and generate more buzz around the products and services that your company offers.
What is Social Media Engagement?
In the past, businesses that wanted to communicate with their customers did so by purchasing television, radio or print advertising. These mediums facilitate a one-way conversation: the company prints a message and spends money to get their message in front of customers, customers read the message and respond to it by visiting the store and making a purchase.
Social media has fundamentally changed the way that communication works between businesses and their customers, essentially creating a public forum for communication between the business and all of its customers. Communication between businesses and their customers is now a two-way street, enabling customers to engage with their favorite brands in completely new ways.
Social media engagement is a measurement of how effectively a company is creating interactions with its customers in the social stream. It can be measured in many ways – likes, mentions, shares, views, comments, subscriptions, etc. – and correlates with the number of people who are forming a relationship with the brand. Social media marketing strategies reflect the reality that customers must market to customers where they are – according to the Global Web Index, 30% of all time spent online is now allocated to social media interaction. With the average person spending just under two hours per day on social media, social media engagement is essential to make sure your brand is capturing enough attention.
Talk About Your Topic (Not Just Your Brand)
In many new situations when you come into contact with new people it's important to get talking to them. Obviously creating content and publishing it onto your social feeds is perfect in letting people know what you are about. But, if you don't have a following, which many new users won't have, joining groups and creating them will help to get your name about.
Best Practice: Joining any old group isn't effective. Imagine you are a beauty salon. Joining a forum that is all about electrics isn't going to reach the right people and hence could be a major waste of time. Involving yourself in groups that are relevant to your business will increase your chances of reaching your target audience and will get your name known by potential customers.
In conjunction with joining forums on your expertise, it's great to create some of your own. Making multiple groups on your social media platforms and inviting key influencers and prospective customers to join in the discussion is one of the smartest ways of spreading your brand.
Remember: Only promoting your own brand creates a bad impression. Groups and forums aren't their to talk about yourself only. Having different group members to lead discussion and talk about the latest trends or ongoings in the industry or area that's relevant to the brand will make customers see you as useful and of value. Don't be the big-headed brand that talks about themselves only. Talk about your topic too!
7 Tools That Can Help Boost Your Social Media Engagement
1. Canva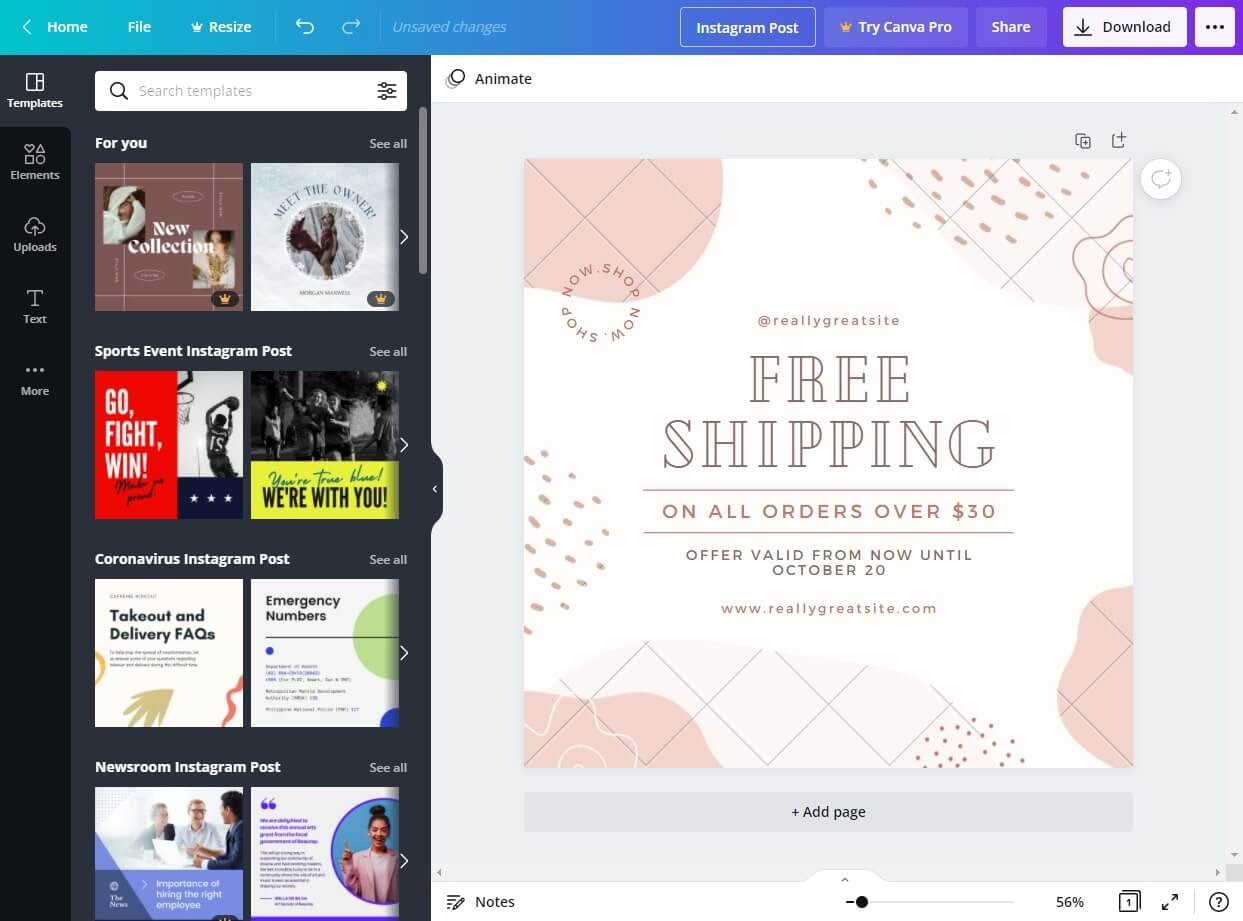 Images are an essential part of your social media presence. Therefore, you'll want to make sure to take high-quality photos and optimize their effectiveness through careful editing. If you're looking for an intuitive tool that helps you design stunning images, consider using Canva .
If you're looking to get the most out of Canva, we recommend that you use your designs across all of your platforms. This way, you're providing a more seamless transition into new graphics for your customers. This can also contribute to consistency in your branding.
2. Revive Old Posts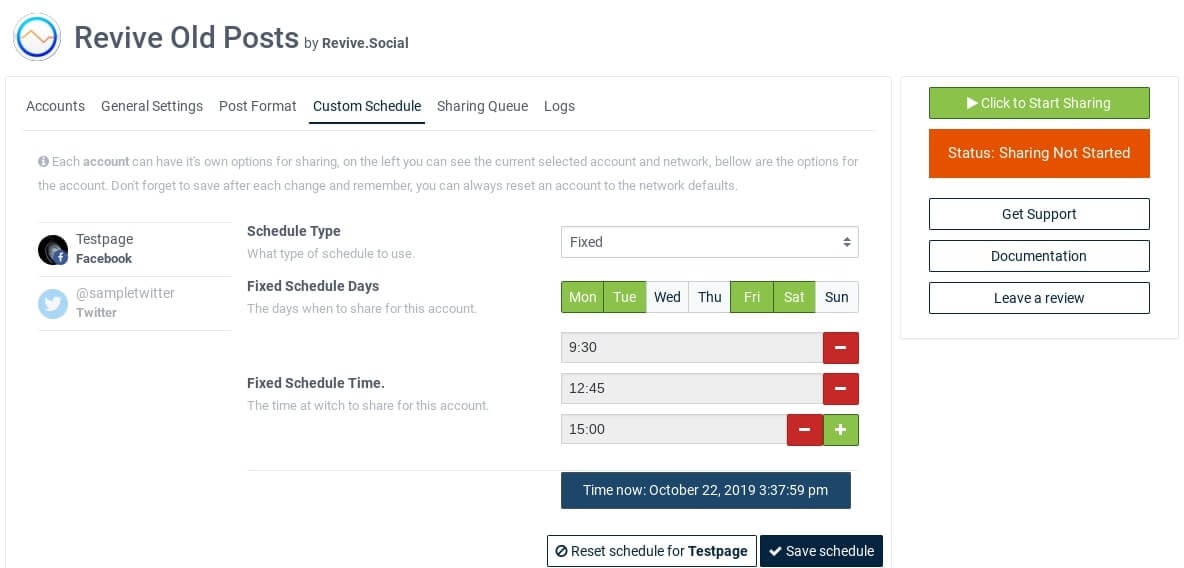 Content creation can be a challenging process. Sometimes it's because you're trying to keep up with the latest trends, but other times it's because you're struggling to produce enough posts to keep your page updated. If you want to alleviate some of this pressure, Revive Old Posts is definitely worth your consideration.
As you can probably guess, this tool can help you make the most of your old content, by ensuring that it gets all the exposure that it deserves. With the help of this plugin, you can give your audience more opportunities to engage.
This plugin can also help you free up some time. Without the need to constantly update your social media pages, you can focus on other areas of your business. Alternatively, you might just find that you can polish your new content even more.
You might want to consider using Revive Old Posts selectively, based on the platform. For example, if you know that your photo posts perform better on Instagram, you can focus on recycling that content for that specific account.
3. CoSchedule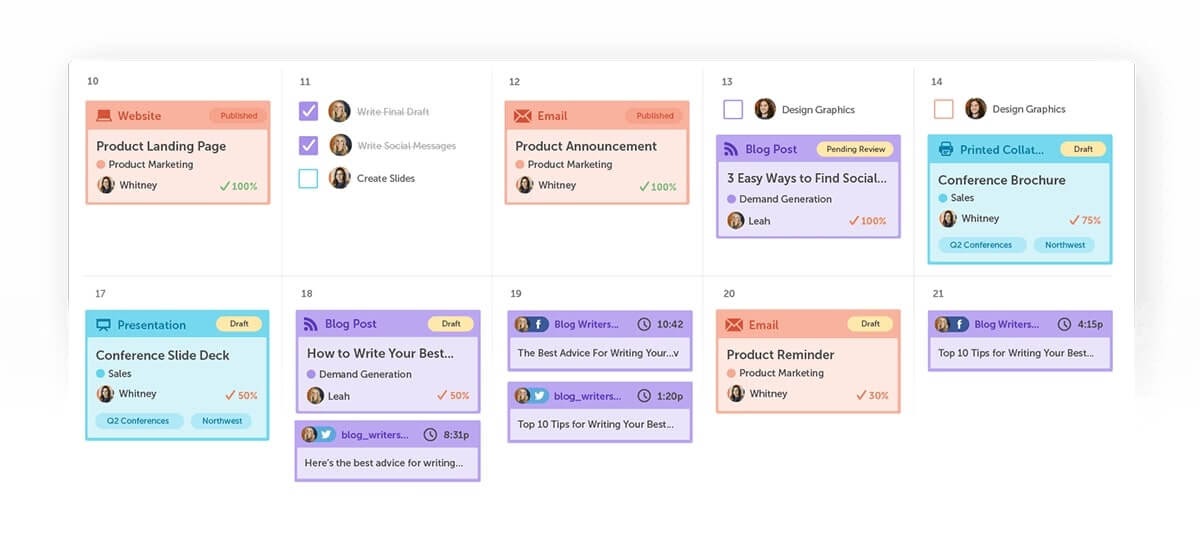 CoSchedule is a scheduling software made specifically for marketers. It can help organize your posting calendar with color-coded posts. Whether you're running a platform-wide campaign or just hoping to polish your email strategy , this program can centralize your work and make sure you always have content planned.
Consistent posting is key to increased engagement. Not only can CoSchedule help you keep this up, but it can also take some of the work off your plate by automating the process. You can also collaborate with other creators.
If you choose to use CoSchedule, we highly recommend that you make use of the content progress function. This way, you'll always know if you're ready to publish a new post. This can be especially useful for large-scale marketing efforts.
Get Content Delivered Straight to Your Inbox
4. Sniply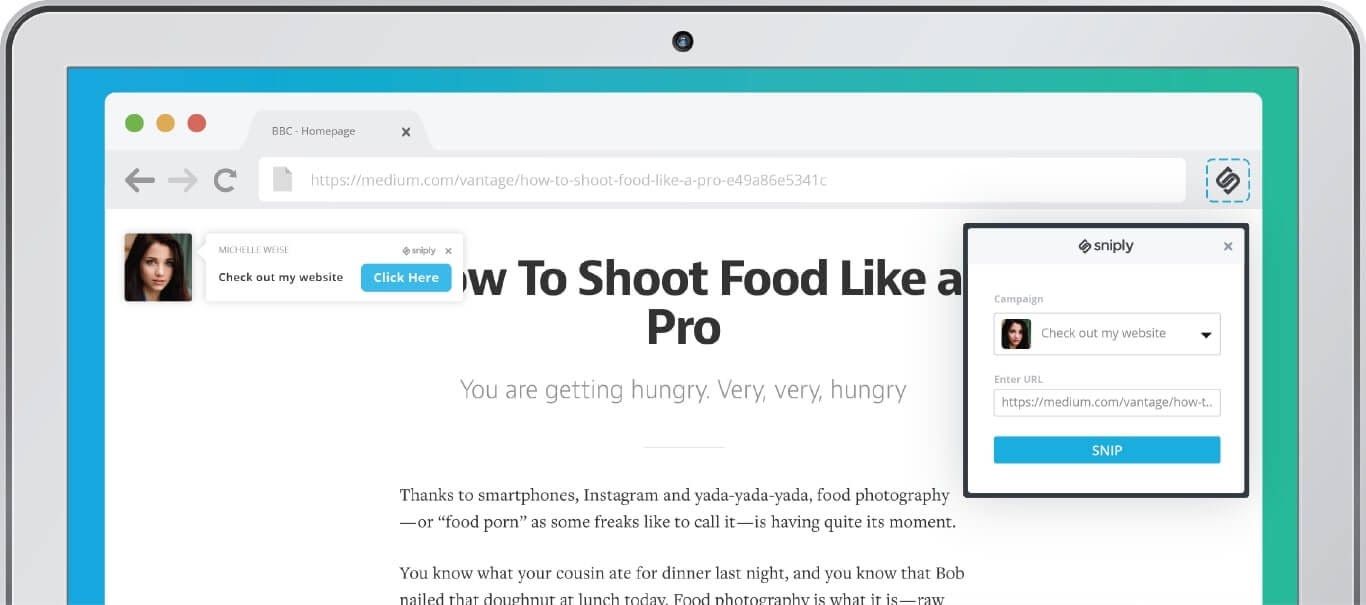 For most social media platforms, you have to contend with a certain word count. This means every character counts. This can be tricky if you're using long, complicated URLs. If you're looking to get the most value out of a short post, we recommend using Sniply .
5. Woorise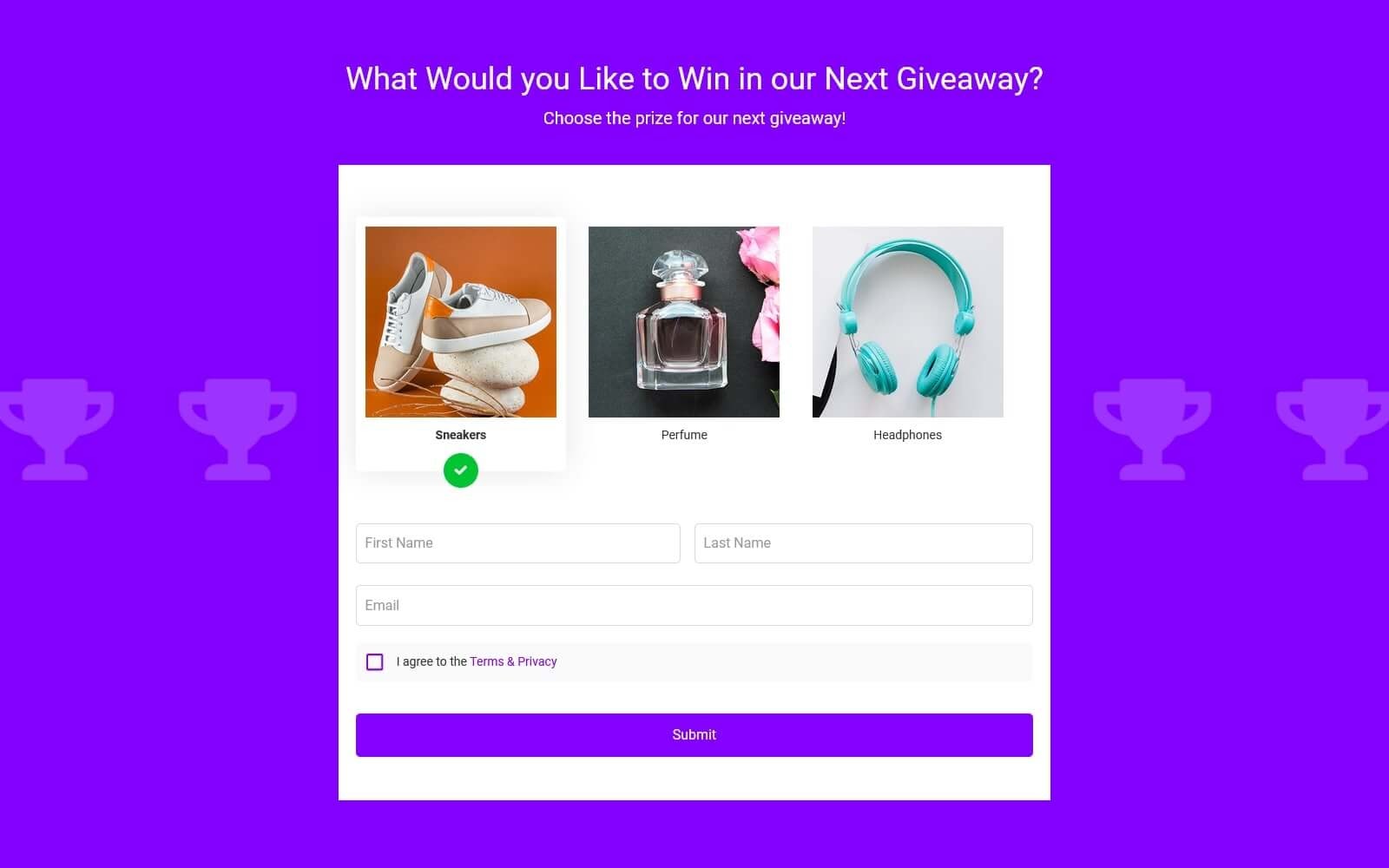 If you want your users to engage with your brand, you may need to go beyond traditional CTAs. Providing users with more interactive content such as giveaways can get them more invested – especially if engagement metrics such as likes and shares are part of the entry conditions.
This is why we recommend Woorise . This tool comes with several functions, but we're particularly impressed with its giveaway functionality. It offers a ton of ways to create a stellar contest that will get your audience interacting with you, such as:
Pricing: You can get started with a free version that has limited functionality. As for the paid version, you can start at $23 per month for one site with unlimited campaigns and 2,000 entries per month. If you want to bump that up to 5,000 entries, you can choose the Grow plan at $39 per month.
6. Social Searcher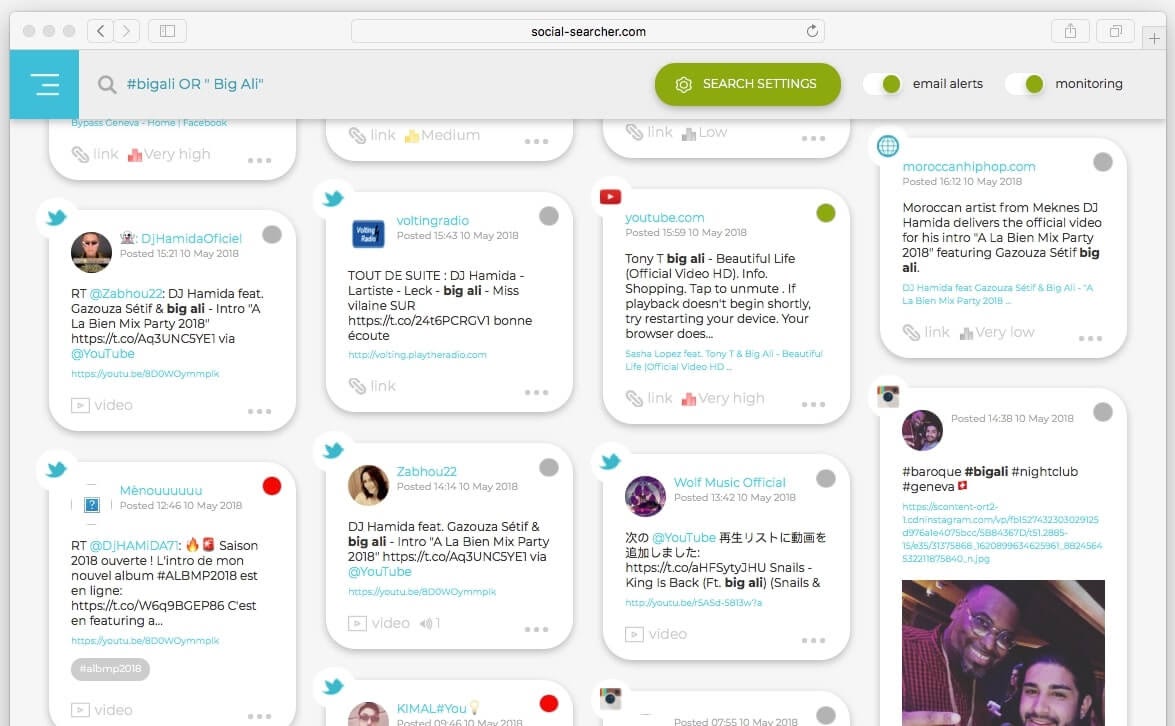 Part of successfully boosting engagement is knowing what your audience is talking about. This doesn't just apply to trends, either: knowing how your users feel about your brand, in general, is crucial to creating the content that they want to interact with. That's why we're fans of Social Searcher .
Social Searcher is – as the name suggests – a search engine geared towards social media platforms. It can help you monitor what people are saying about you across multiple sites at once. This applies to individual sites or a more generalized report.
Generally speaking, users will only interact with posts that are relevant to them. Social Searcher can help you boost engagement by pinpointing these topics and responding accordingly. You might also be able to use it to learn more about your audience.
Our favorite thing about this tool is the universal dashboard. You can get information on users across several different sites, allowing you to focus on specific campaigns while also understanding the bigger picture.
7. Easy Affiliate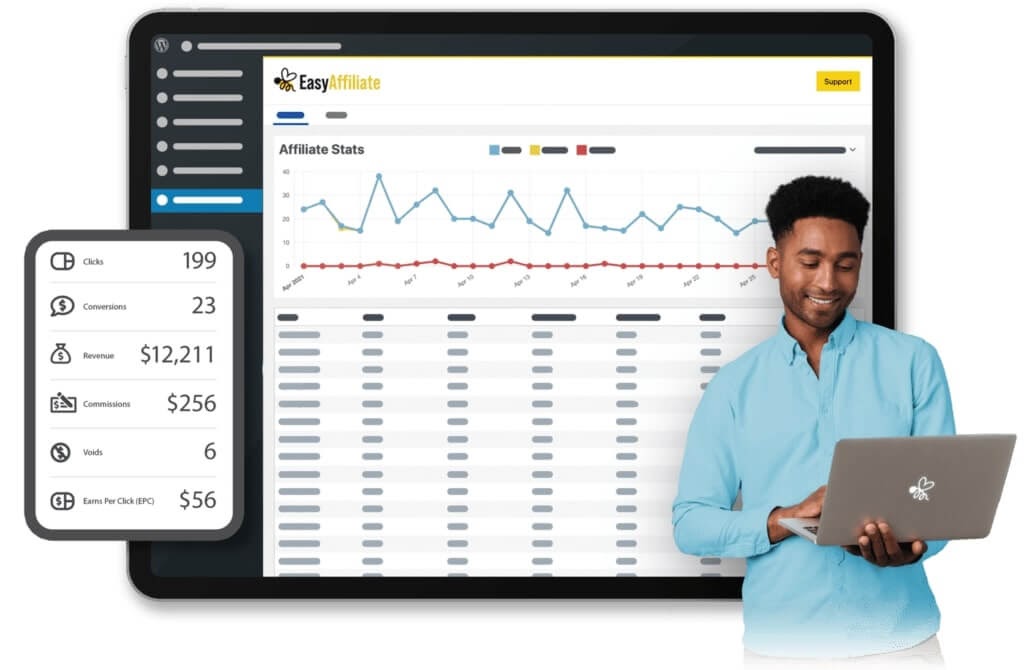 If you aren't using an affiliate program for your brand, now might be the time to start. Working with influencers can be a natural and affordable way to reach new audiences on social media. Their work on these platforms can in turn lead curious users to your profile for more information.
However, managing affiliates across different social media accounts can be tough. If you're looking for a tool to help you out, we recommend Easy Affiliate . This resource enables you to manage, track, and reward the influencers that boost your engagement metrics the most.
Influencers are more than just a way to advertise your site – they can also organically boost brand awareness. Users who trust these affiliates might in turn trust your brand and seek out your content. This can help you increase your engagement and boost your conversion rate.
Sources:
https://engageware.com/blog/why-social-media-engagement-is-important-for-your-business/
https://socialmediaweek.org/blog/2017/10/10-tips-increasing-social-media-engagement/
https://www.dreamhost.com/blog/tools-boost-social-media-engagement/